Am 07.Oktober 2008 wird das erste Album der Screamo Band I Set My Friends On Fire erscheinen. Das Album "You Can't Spell Slaughter Without Laughter" wird beim Label Epitaph erscheinen. Das Album bietet dem hörer neber einer guten portion Humor, Trash, Gitarren Riffs und Dance Beats auch schöne Breakdowns gepart mit tollen Mitschrei-Parts. Die 12 Songs des Albums machen wirklich durchgehend Spaß, ISMFOF schaffen es zum ende des Jahres noch ein kleines Screamo Highlight hinzulegen.
Cover: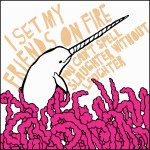 Tracklist:

Sh!t It Talks…I'm Out Of Here
Brief Interviews With Hideous Men
Beauty Is In The Eyes Of The Beerholder
Things That Rhyme With Orange
ASL
Interlude
Ravenous, Ravenous Rhinos
HxC 2-Step
WTFWJD
Crank That
But The NUNS Are Watching
Reese's Pieces, I Don't Know Who John Cleese Is?
Links:
ISMFOF @ MySpace